Our E-Z-ON Adjustable Vests for School Buses enable the safe transportation of special needs children and adults in the upright position.

Part Number:
E064540
HCPCS Code:
E1399
Status:

Lead Time is 2-3 weeks

Additional Information:


Can custom vests be made?

Absolutely. We can have a custom vest made for children or adults that are over or under our standard sizes. We can do modifications for conjoined twins, aircraft travel, infants to travel in the supine positions, those with g-tubes and many, many more. You may also have the crotch straps, wrist restraints and upper arm restraints sewn onto the vest. If you would like any of these modifications done, please call us for a quote at 877-664-4565.

Have the vests been safety tested in Canada?

No, E-Z-ON products have only been safety tested in the United States.
The E-Z-ON Adjustable Vests for School Buses enable the transportation of physically challenged children and adults in the upright position. It is dynamically tested and meets Federal Motor Vehicle Safety Standards.

The vest's back zipper closure discourages unauthorized opening or removal. Quick, 1-pull, adjustable shoulder strips permit growth. Synthetic lambs wool Sherpa Fleece Neck Pads have Velcro closure for instant access to slide buckles (neck pad not included with vest, order separately). Bar slides helps deter children from loosening adjusters. Zippers and adjustable chest and waist strips accommodate growth and heavy clothing. Contains latex in bar slides only.

For use with yellow school buses only. Not for use on family vehicles.
E-Z-ON Adjustable Vest Features:
Adjustable shoulder straps pull easily to lengthen and shorten the vest for a secure fit. The hip strap must remain low around the lap.
Bar slides keep busy fingers from undoing shoulder straps. Shoulder straps back-thread and lock.
D-rings make securement a snap when using the E-Z-ON® Seat Mount, Floor Mount in school buses.
Adjustable Zipper Panel front E-Z-ON® Adjustable 103Z Vest for School Buses SLIM ADJUSTER COVERS Quick and Easy!
E-Z-ON® Vests can be comfortably fitted before getting in the school bus.
No-more struggling on the bus with restraints!
Simple and secure mounting straps make attachment to the vest a snap, for school bus and wheelchairs.
Wash with mild soap and hang dry.
Most standard vehicles are installed with a single tether mount per seat which works with the Tether Strap. The Locking Clip is an option in lieu of mandatory. It helps with sliding the straps of the vest through the vehicle lap belt. To use the floor mounted strap, additional tether mounts will need to be installed into the vehicle.
School Bus Mount Options:
Portable Seat Mount (CamWrap™) for School Buses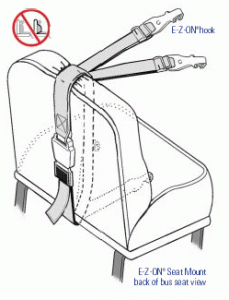 Easy to install. Just wrap mount securely around bus seat, adjust hooks snugly to the vest and away you go! E-Z-ON hooks prevent busy fingers from unlatching. Seat Mount secures easily to either vest D-rings on adjustable vest or metal slots. The E-Z-ON portable seat mount easily secures 3 passengers to a standard bus seat, too!
No fussing with complicated installation! Secures passengers 20-168 lbs. Age 2-Adult.
NHTSA recommends that passengers behind occupants in Seat Mount be restrained with a seat belt or other restraint or the seat be unoccupied.

Push button closure faces the seat back to prevent busy-fingers unlatching!
FMVSS213 approved
---
Bus Tether Mount for School Buses

The E-Z-ON® Bus Tether Mount is required for any E-Z-ON® vest on school bus seats with seat belts.
Thread the lap belt through the E-Z-ON® vest belt loops. Snap hooks are attached to the vest. The tether hook attaches to the bus tether anchor.
Install the E-Z-ON® tether bracket to the existing seat belt hardware. Adjust by pulling the web end through the tilt-lock adjuster. The vest should fit the passenger snug and the tether adjusted without slack.
Snap hooks simply clip on to the vest shoulder D-rings or metal slots on adjustable vests.
A vehicle belt MUST be used with the E-Z-ON® Bus Tether Mount. The E-Z-ON®Bus Tether Mount secures the upper body.
The lap belt secures the lower body.
---
Floor Mount for School Buses
This E-Z-ON® Floor Mount is the perfect design that safely restrains children with the E-Z-ON® Vest in school buses.

Passengers with emotional or behavioral disorders cannot stay in a typical restraint and need a secure system that will protect them.

Children who unbuckle their car seats or seat belts can endanger themselves and distract the bus driver.

The E-Z-ON® Floor Mount used with the E-Z-ON® Vest creates a safe and secure restraint that exceeds a typical seat belt or 5 pt. car seat.

This product must be used on school bus seats that let the snap hooks pass through the seat and attach to the passenger.

Hardware kit included, allows passengers to be secured safely without the need of a vehicle seat belt.

Slim tilt-locks makes adjustments easy for all connecting straps.

Use only with E-Z-ON® Vests.
---
Wheelchair Mount for School Buses


Securing the E-Z-ON® Vest to a wheelchair is easier than ever, with the new E-Z-ON® Wheelchair Mount.

The E-Z-ON® Wheelchair mount is designed to secure the passenger in the E-Z-ON® vest. Adaptable to any size wheelchair!

Tilt-lock adjusters make shortening and lengthening the mount straps easy!

Straps are easily shortened or lengthened with the Tilt-lock adjuster!

Cross the 2 webbing straps and wrap above both cross bars. Snap hooks easily attach to the vest at the shoulders and the hip straps. Reduce slack in web straps and your passenger is ready to ride!

It is necessary to use approved tie downs and not the E-Z-ON® Wheelchair Mount to secure the wheelchair on the school bus.

Note: Approved tie downs are required to secure the wheelchair. The E-Z-ON®Wheelchair Mount secures the Passenger.
E-Z-ON Adjustable Vest Specifications:
| | |
| --- | --- |
| Size | Waist Circumference |
| X-Small | 19" - 23" |
| Small | 25" - 30" |
| Medium | 32" - 37" |
| Large | 37" - 42" |