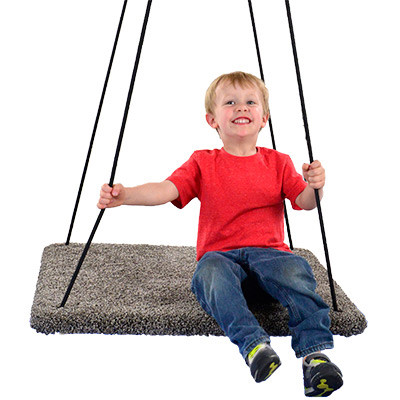 Check out this month's giveaway, the Square Carpeted Platform Swing. This swing is useful and helps in the development of a child's sensory and vestibular system! Different forms of movement and repetitive swinging is important.
Square Carpeted Platform Swing Features
Hand-crafted from 100% Baltic Birch
Dimensions are 30" x 30"
Supports up to 300lbs
Carpeted for extra comfort
Includes 2 safety connectors
The platform swing enables parents and therapists to work with children on vestibular orientation, linear acceleration, balance reactions and motor planning. Our portable platform swing is comfortable, flexible, and portable for any situation. The platform swing is perfect for challenging balance, instant vestibular stimulation and postural adjustments. The carpeted surface provides extra comfort and tactile input for children who crave textures. This platform swing is very popular in therapy clinics and schools. This swing will provide hours of fun and learning.
Just fill out the entry form and good luck. At the end of the month one lucky fan will be notified by eSpecial Needs that you have won. Rules: NO PURCHASE NECESSARY. Sweepstakes ends September 30, 2017.