iPad Accessories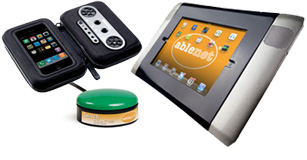 iPad Accessories
Devices such as Apple's iPad, iPhone and iPod touch are the hottest consumer technology products on the market. While thousands of applications have been written, persons with special needs have fewer opportunities to enjoy them, because they are intended to be used with touches, swipes and taps.

These accessories enable users with disabilities to access apps without having to touch the screen. Remember, not all apps are switch accessible. It is important to verify that your access solution will work with your iDevice and app.
There are no products matching the selection.