Switch Interfaces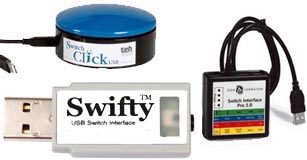 Switch Interfaces
Switch interfaces are an access aid used to connect a special needs switch or similar device to a computer. In many cases, a standard switch 3.5mm jack cannot plug directly into a computer. The switch interface allows the user to plug their wired single or multi-switch into the switch interface and then the switch interface into a computer USB port.
These computer aids interface with both Windows or Mac platforms without any software. Many switch interfaces allow multiple switches to be plugged in at once and are perfect for the educational setting.
There are no products matching the selection.