Bath Chairs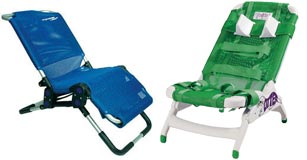 Bath Chairs
Our bath chairs provide support and positioning for children and adults using special needs bathing systems. These bathing chairs feature multi-positioning seat backs that make bath time more comfortable for the user. Bath chairs can also be repositioned for complete hygiene, cleansing and easy storage.
Designed for children to adult sizes, our bath seats are lightweight and easy to fold. Tub stands lift the bath chair to a convenient working height for the caregiver. Shower stand turns the bath chair into a shower chair at the perfect standing height for the caregiver, and rolls into the shower.
There are no products matching the selection.