Dining Aids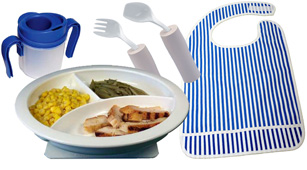 Dining Aids
Our special needs dining utensils, drinking aids and adaptive eating equipment make dining less work and more enjoyable. They help people with a wide range of disabilities or physical challenges and are perfect for the home, school or healthcare setting.

Cups and drinking aids have been adapted for easy pick up and holding. Plates and bowls have built up rims and edges to capture food on the utensil. Utensils with large, angled or weighted handles are easier to grasp and reach your mouth.

Help someone eat independently and with dignity with our adaptive special needs dining aids.