Tricycles & Bicycles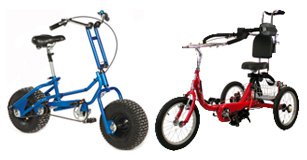 Special Needs Tricycles & Bicycles
Kids and adults of all abilities can experience riding a bike with special needs bicycles and tricycles. Adaptive bikes and adaptive tricycles are specifically designed for people with physical and developmental disabilities. They offer an enhanced sense of freedom and mobility to those with Autism, Down Syndrome, Cerebral Palsy, and more. These vehicles strengthen coordination, balance, and other skills in an accessible way.
There are options for all ages, from toddlers to adults. If traditional pedaling is difficult, you can get a tricycle with synchronized hand/foot pedaling as an alternative. Training wheels add stability to a bicycle, while helmets and head supports provide safety and comfort. With the right assistive products, anyone can benefit from the fun and exercise of a relaxing bike ride!
There are no products matching the selection.