Sensory Motor Tools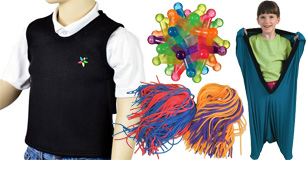 Sensory Motor Skill Tools
Sensory motor skills are the essential activities and movements that prepare our brain and body to learn. Our special needs products improve gross motor, fine motor and sensory motor integration, including therapy balls, visual, auditory, relaxation, tactile, vestibular (perception of movement) and proprioceptive (body awareness) toys.

Deep pressure, weighted vests and blankets provide pressure to promote self-calming, balance and body awareness. Fidget toys are effective for self-regulation and increase focus and tactile awareness. Sensory development toys encourage discovery and imaginative play. Swings and swing frames promote the perception of movement and provide hours of fun and therapy. Tactile sensory stimulation involves the sensation of touch and texture. Vibrotactile provides a deeper form of touch to promote an engaged or relaxed response. Therapy and exercise balls provide a wide range of benefits across both the vestibular and proprioceptive spectrum. Visual stimulation creates irresistible focal points improving mood, visual tracking and concentration.
There are no products matching the selection.