Strollers & Wheelchairs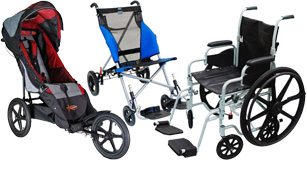 Special Needs Strollers & Wheelchairs
Special needs strollers and wheelchairs provide mobility to people with physical and/or developmental disabilities. Wheelchairs offer a sense of independence and accommodate individuals of all sizes. Strollers are easy to push, compatible with a variety of terrains, and foldable for convenient transport. They're ideal for small children who cannot operate a wheelchair themselves. Ramps are also available to make your home, school, or place of business more accessible to those using wheelchairs or strollers.
These aids are designed to improve the personal mobility of adults and children with special needs, allowing them to move around in comfort and confidence.
There are no products matching the selection.