Bath, Toilet & Incontinence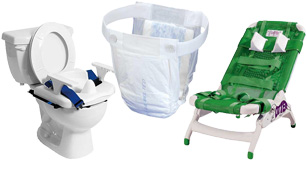 Bath, Toilet & Incontinence
Bath, toileting and incontinence aids are essential for people of all ages. Our special needs bath safety products provide the stability, assistance, mobility and confidence necessary to maintain independence.

We offer bath and shower chairs, bath lifts, bathing systems, shower and commode chairs, and bathtub grab bars and rails. We carry on-the-toilet seats and supports, over-the-toilet chairs, commodes, splash guards and reducers. We also provide a large selection of diapers and incontinence supplies for every type of need.

Browse our categories to find the right special needs bath, toileting and diaper products.