Positioning & Therapy Wedges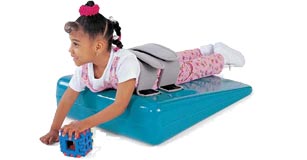 Children and adults who need in increase tolerance to a prone position or improve proximal stability or head control can benefits from being positioned on a therapy wedge. Therapy wedges are practical, durable, and comfortable. Therapy wedges have versatile shape which is designed for gross motor activities such as tumbling, walking up or downhill, or creating comfortable environments for reading.

The patient works on head control as they lift their head to look at different focal points or items throughout the room. Weight bearing positions in prone improve strength and proximal stability. This position also helps to stretch muscles in the hips, knees, and shoulders.