Daily Living Aids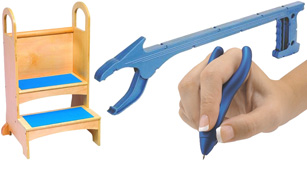 Daily Living Aids
Daily living aids are essential for those with special needs to maintain a better quality of life. From convenience to safety, these products make life a little easier.

We offer a range of items including child locators to find wandering children, home accessories for safety and organization, dressing and writing aids to assist with fine motor skills, reaching aids for limited range of motion, and mouth stick and head pointers for people with limited hand use.

Search our Daily Living Aids categories for products to make a difference in everyday life.