Weighted Vests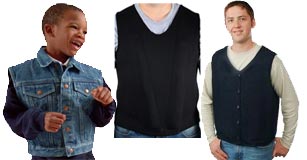 Based on the sensory integration technique of deep pressure proprioceptive feedback, children who are easily distracted, hyperactive and lacking in concentration may respond positively to weighted vests and weighted clothing.

Weighted vests can be used for children and adults with Autism, PDD (Pervasive Development Disorder), ADD (Attention Deficit Disorder), ADHD (Attention Deficit Hyperactivity Disorder), CP (Cerebral Palsy), MD (Muscular Dystrophy) and various sensory integration needs.

Discover our selection of of weighted vests and clothing to find the right special needs solution. Our designs feature an easy-to-wear design with vests that look like everyday clothing.
Starting at $48.95 - $99.95
Starting at $183.40 - $358.90