Reachers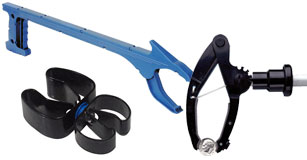 Reachers
Reachers and reaching aids are daily living aids developed to help people with special needs achieve more independence.

Reachers assist people with limited range of motion, from arthritis or disability, helping to grab out of reach items with ease. These daily living aids are available in different styles, including lightweight, folding and rotating perfect, for items in low or high places.

Search our selection below to find the right reaching aid for picking up objects over an arm's reach away.