Trampolines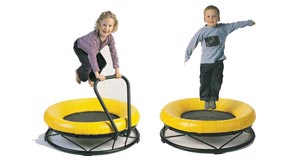 Trampolines
Trampolines can regulate and advance special-needs children's sensory skills. Children with autism or Asperger's syndrome frequently feel overwhelmed by stimuli, leading to added stress and undesirable behaviors.
Trampolines are also fantastic for increasing sensory awareness and improving motor skills. Rebounding encourages muscle development, strengthens bones, reinforces joints, and improves balance.
Trampolines are invaluable tools for encouraging interaction between the children and the parents.