Scissors & Cutting Aids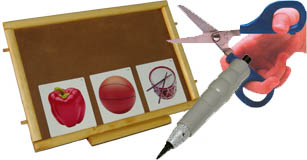 Using scissors is a complex motor control activity. Our wide range of adapted scissors and associated publications assists the child with special needs to develop this important skill.
These scissors have been designed to overcome difficulties encountered by those with arthritis or other conditions that make the use of conventional style scissors uncomfortable or impossible. Our nail care products assist those with grip strength and control difficulties to independently manage this essential area of personal care.