Standers & Standing Aids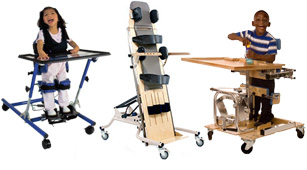 Standers & Standing Aids
Standers and standing aids enhance the quality of life for individuals with physical disabilities by integrating the special needs child into normal classroom, life and leisure activities. Our adaptive equipment places the user in an upright position, provides stimulation to the bones in the lower extremities, encourages head and trunk control, improves respiratory function and stimulates gastric motility.
Supine standers lean backward, support the posterior (back) of the body and are designed for children who do not have head control.
Prone standers lean forward, support the anterior (front) of the body and are designed for children with the necessary head control.
Sit to stand standers make the transfer between positions easier, are beneficial for standing frequently and highly adjustable for growth and changes.
Vertical standers are for users who have fairly good balance and truck control, but still need upright support and alignment.
Dynamic standers provide the greatest mobility possible, promote motor skills and increase independence.
Whether you are looking for adaptive equipment for therapy, a standing frame for a paraplegic or a pediatric stander for a special needs child, we are sure to have a product to fit your home, clinic, school or multi-user environment.