Gait Trainers & Walkers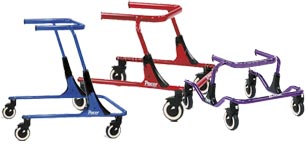 Gait Trainers & Walkers
Gait trainers are designed for individuals who do not have the functional gait skills or postural control to safely and independently use a standard walker. Their benefits include:
•Encouraging early cognitive and learning development.
•Cardiopulmonary strengthening and conditioning.
•Reducing flexion contractures.
•Increasing spatial awareness and head control to achieve independent ambulation.
•Teaching individuals to take steps.
Most gait trainers offer varied levels of support and accessories are designed to be modular in order to be removed or added according to the individual user's needs and abilities. The posterior and anterior models are in various sizes from toddlers to adults. Most fold easily for convenient transport and storage.