Sit to Stand Standers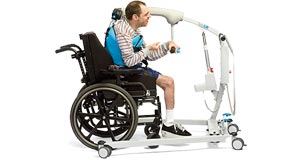 Whether you are looking for a rehab equipment for people with disabilities to be utilized in a clinic, a standing frame for a paraplegic, or a pediatric stander for a child with special needs, we are sure to have a product to fit your specific standing needs.
All sit to stand standers feature sit to stand technology and tool free adjustments. With built-in modularity, the sit-to-stand standers allow for the options you need to be added at any time. Our pediatric standing products can be used as both a stander and a desk, and our adult products allow for independent active standing.