Ball Pits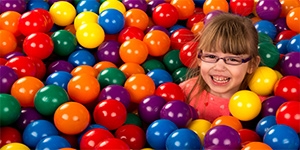 Ball Pits
Ball pits are great places for children to have fun, learn to relax and are well known for their therapeutic effects when added to a special needs multi-sensory environment. Ball pits have been awakening people who are developmentally delayed, neurologically involved or living with birth disorders such as autism. They are also known to have the opposite effect on those who require relaxation.

The brightly colored balls inside a ball pit create a rainbow sea of fun and entice people of all ages into the therapy environment. The balls massage the entire body, provide buoyant support, deep-pressure sensation and encourage relaxation. The visual, auditory and tactile sensory stimuli and the proprioceptive feedback build confidence and strengthen sensory motor skills.

Develop gross motor skills and social interaction skills by providing visual and tactile feedback with our multi-sensory environment ball pits.
Check out the new low prices of the Mini Budget Ball Pit, Rectangle Budget Ball Pit and Giant Budget Ball Pit.